This article is part of our The Armband series.
Gameweek 34 might've been the worst double gameweek ever as Brighton went scoreless and allowed seven in two favorable matches. The second-most popular captain was a Brighton defender, and instead of securing a clean sheet, Shane Duffy finished with one point. It also didn't help that all four Tottenham goals were scored by guys not usually on the scoresheet, as Son Heung-Min was dropped to the bench. Luckily, those things won't be a worry this week.
The season is winding down and it's time to make a move in another double gameweek with eight teams involved. That includes Brighton, but they only get a mention because they boost the stock of Wolverhampton and Spurs. Man City would normally be a top team to back with two matches, but they'll likely change their lineup in either match (v. Spurs, at Man United) after playing Tottenham on Wednesday, making most of them unreliable. I'm also passing on Man United because their first match comes at Everton before hosting Man City.
The teams with the best schedule are Arsenal (v. Crystal Palace, at Wolves), Watford (at Huddersfield, v. Southampton) and Wolverhampton (v. Brighton, v. Arsenal). I'd say Southampton (at Newcastle, at Watford), but both of their matches are away and that's not something to bet on.
The problem with Watford is that Troy Deeney is unavailable and Gerard Deulofeu questionable, making Andre Gray and Abdoulaye Doucoure possibly the best options for the armband. If you need a differential, Gray is probably the best place to look after he had five shots and three chances created in his last two matches. His only two starts this season have come against Arsenal and Man City so it's hard to put anything into those. Otherwise, Isaac Success could move into the other forward spot or you can test your luck with a central midfielder. Will Hughes has seven shots and four chances created (one goal, one assist) in the last three matches, while Doucoure has the same numbers, but with two goals in that period.
Wolverhampton are a little easier to figure out because of Raul Jimenez, though the home match against Arsenal doesn't help. At a minimum, Jimenez should make the scoresheet once in the Brighton match, but you're hoping for more in this double gameweek. Diogo Jota and Joao Moutinho are possibilities, but Jimenez is much easier to trust.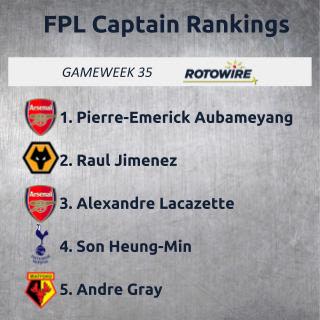 The problem with Arsenal is that you don't know who's going to start and Thursday's Europa League match adds to the question. Alexandre Lacazette had started four straight before getting dropped to the bench at Watford. Pierre-Emerick Aubameyang played the full 90 and scored in that match but came off the bench in the prior two. I give Aubameyang the slight edge because he should start at least one match and has performed well as a sub. There's also a chance Lacazette starts Thursday, which would push Aubameyang into the starting XI against Palace. Otherwise, there isn't one guy who gets consistent production for the Gunners unless you really like Mesut Ozil. Henrikh Mkhitaryan is the next option, though keep in mind he'll likely concede corners to Granit Xhaka, who returned from injury last match.
Of course, you could always ride with Man City or Tottenham. I'm not confident in City scoring multiple goals in either match, but I have a feeling Kevin De Bruyne is the guy for the armband after he carved up Tottenham on Wednesday. Raheem Sterling and Sergio Aguero are more likely to make the scoresheet, but they'll be the popular choices and neither are guaranteed to start both. It might be easier to go more defensively and bank on a clean sheet or two from Aymeric Laporte or go big with Benjamin Mendy.
As for Spurs, you have to predict their starting XI against Brighton because that's where all of the goals will come. I'm a little more confident in Lucas Moura than Fernando Llorente, especially since the former is coming off a hat trick in league play. Christian Eriksen and Son are always in the mix, especially after what Son did to City. Son's upside when Harry Kane isn't in the lineup is another thing to consider.
Liverpool are getting a late mention because their lone match is at Cardiff and some will likely turn to Mohamed Salah or Sadio Mane. I'd still rather back Eden Hazard against Burnley if you want to avoid the two-match players for some reason.