This article is part of our Fight Stat Wrap series.
In the main event of the last UFC show on Fox, Kevin Lee appeared to believe he had the decision in hand. However, the judges clearly had a different view of the fight and handed the decision to Al Iaquinta. The rest of the main card was a combination of spirited battles and a quick finish. On the undercard, Jack Hermansson put up 142.5 DraftKings points, which was the highest score of the night and the eighth highest score of 2018. Also, Zak Ottow earned players only 42 points despite winning. This was the second lowest score of 2018 for a winning fighter behind only Derrick Lewis' score (40) against Francis Ngannou at UFC 226.
The following is a by-the-numbers recap that highlights the stats and milestones that stood out on the main card, with stats courtesy of FightMetric.com.
Al Iaquinta edges Kevin Lee thanks to strong performance in the championship rounds
As previously stated, Lee must have thought he was ahead going into the championship rounds. However, in the end, two of the three judges gave Iaquinta rounds one, four and five. His best rounds were clearly four and five where he outlanded Lee 24 to 17 and 33 to 18 respectively on significant strikes. Lee's best path to victory in this fight was doing work on the ground. While he did take the back twice and land 20 significant ground strikes, Iaquinta was able to survive and take the decision. At distance, he was able to outwork and outland Lee to the tune of 110 to 81 on significant strikes.
Iaquinta managed to earn DraftKings players 85.5 points. The score is a mixed bag. On one hand, Iaquinta was the underdog, so an upset win probably satisfied players. However, normally a winning fighter in a five-round fight finishes with a higher score.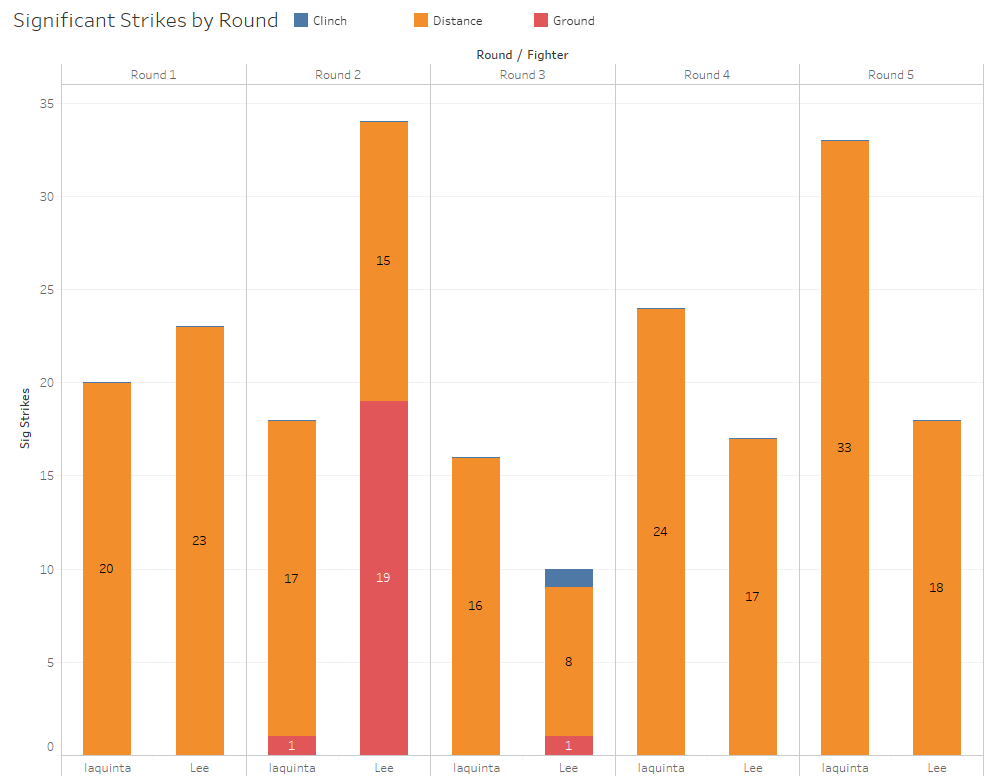 Edson Barboza roughs up Dan Hooker to the body
While this started out as a close fight, it eventually turned into a one-sided beating. For the fight, Barboza outlanded Hooker 126 to 81 on significant strikes. In the second round alone, he landed 63 significant strikes, which was a career high for strikes landed in a round. His best work clearly came to the body. He landed 36 of his 43 attempted significant strikes (84 percent). Those strikes clearly took a toll on Hooker and eventually finished him off.
Barboza finished with the third highest DraftKings score. He earned 118 points based on his striking stats, a knockdown and the third-round finish bonus. As a volume striker, Barboza is usually a strong pick, but picking up the finish and knockdown were a bonus for players.
Rob Font outlands Sergio Pettis for three rounds
One might think that Pettis would have the speed advantage since he was moving up from flyweight to bantamweight. That certainly did not appear to be the case on Saturday. Font routinely beat him to the punch. He outlanded Pettis 111 to 71 overall on significant strikes including 79 to 53 on head strikes and 25 to seven on body strikes.
Font's all around performance, which included two takedowns, two passes and a reversal, led him to put up 106.5 DraftKings points. Font was only a slight favorite over Pettis, so players who took a chance on him were strongly rewarded.
Charles Oliveira picks up quick submission over Jim Miller
In the rematch, Oliveira submitted Jim Miller in only 1:15. In the process he became one of eight fighters to not land a single significant strike in 2018 and one of only two fighters to win without landing a significant strike this year. Prior to this fight, the only other fighter to win without landing a significant strike was Mickey Gall, who submitted George Sullivan last August. This was also Oliveira's quickest finish of any kind since he submitted Darren Elkins in only 41 seconds in his UFC debut in 2010.
For DFS players, the downside of a quick finish is that the fighter does not have any time to build up stats. Oliveira finished with only 98 DraftKings points for this performance, which was the eighth highest score of the night.