This article is part of our Team Previews series.
Tennessee Titans

The Titans have boasted a hyperefficient offense in both of the last two seasons, powered by Ryan Tannehill, Derrick Henry and A.J. Brown. However, the offseason brought plenty of turnover from a personnel and coaching perspective, creating challenges and opportunities in 2021.
Offseason Moves
Key Acquisitions
Arrived in June to provide the receiving corps with a major boost.
Set for a complementary role with Jones now on board.
The 6-2, 208-pounder showed solid deep-ball skills at the college level.
Will be relied upon to fill the void at right tackle.
Bolsters a poor pass-rushing unit that mustered only 19 sacks in 2020.
Key Losses
The 2017 first-rounder lands a three-year, $37.5 million free-agent deal.
Joins forces with fellow free-agent TE Hunter Henry in New England.
In two seasons with the Titans, managed a 60-602-4 line in 19 games.
A Look Under the Hood
Head Coach: Mike Vrabel (Year 4)
Offensive Coordinator: Todd Downing (Year 1) - West Coast Offense
Defensive Coordinator: Shane Bowen (Year 1) - 3-4 scheme
2021 Vegas Projected Wins: 9.5 (T-11th)
2020 Record: 11-5
2020 Points Scored: 491 (4th)
2020 Points Allowed: 439 (24th)
2020 Point Differential: +52 (12th)
2020 Run-Play Rate: 50.3 percent (3rd)
2020 Offensive Snaps: 1,031 (17th)
2020 PFF O-Line Ranking: No. 15
Projected 2021 Depth Chart
QB: Ryan Tannehill / Logan Woodside / Matt Barkley
RB: Derrick Henry / Darrynton Evans / Brian Hill / Jeremy McNichols
WR1: A.J. Brown / Dez Fitzpatrick
WR2: Julio Jones / Marcus Johnson / Nick Westbrook-Ikhine
WR3: Josh Reynolds / Chester Rogers
TE: Geoff Swaim / Anthony Firkser / Luke Stocker
O-Line: LT Taylor Lewan / LG Rodger Saffold / C Ben Jones / RG Nate Davis / RT Ty Sambrailo (RotoWire Rank: No. 15)
Kicker: Tucker McCann / Sam Ficken
Top Storylines
Powered by Henry
An anomaly in today's NFL, Derrick Henry once again was the driving force behind the Titans offense in 2020, as he topped 100 rushing yards in 10 games and managed multiple touchdowns in six contests. Much like 2019, he took some time to get going, as he had zero rushes of 20-plus yards through five weeks, only to close the season with 16 such runs in his last 12 outings. The final result was 2,027 rushing yards and his third consecutive campaign with more than 1,000 yards on the ground.
While it's hard to poke holes in that resume, it's worth noting the significant workload Henry has piled up over the last two seasons. In that span, he's racked up 681 carries, a concern even after factoring in his sturdy 6-3, 247-pound frame. That said, Henry so far has yet to show any noticeable ill effects stemming from the heavy burden he's been handed.
A tired narrative regarding his relative lack of receiving ability is advanced by some in the fantasy community, but the 27-year-old has offered more than enough rushing upside to overcome his lack of receiving chops. Heading into the 2021 season, Henry appears to be locked into the top half of the first round of drafts, while remaining firmly perched atop a Tennessee running back depth chart that also includes Darrynton Evans, Jeremy McNichols and Brian Hill.
A Dynamic Duo and then Questions
The Titans' pass-catching depth disappeared early this offseason, as a combined 207 targets from 2020 were vacated by the departures of Corey Davis, Jonnu Smith, Adam Humphries and Kalif Raymond. The team eventually responded with a huge splash, acquiring veteran wideout Julio Jones from the Falcons. Though the 32-year-old was hampered by plenty of injury concerns last year, he continued to display an elite skill set by averaging 11.3 yards per target – good for third highest in the league.
Jones' presence should help the cause of A.J. Brown, as he figures to see less focused coverage from opposing secondaries. With additional room to operate, Brown should be a more consistent downfield threat and showcase his size (6-1, 226) and athleticism. Few teams can rival the duo of Jones and Brown, but the quality of depth behind them remains a question.
Free-agent pickup Josh Reynolds is the top candidate to serve as the No. 3 wideout, while a pair of rookies in Dez Fitzpatrick and Racey McMath will jostle for any leftover reps with Marcus Johnson, Chester Rogers and Nick Westbrook-Ikhine, among others. At tight end, Anthony Firkser also should see an increased role as the Titans' top receiving option at the position, handling the bulk of the assignments previously held by Smith.
Defending the AFC South
The Titans finished the 2020 regular season as AFC South champs, albeit with a disappointing wild-card round exit at the hands of the Ravens. The biggest factor in favor of Tennessee defending the crown when compared to the rest of the division is stability at the quarterback position. Though for different reasons, none of Jacksonville, Indianapolis nor Houston have clarity on the expected effectiveness of their top signal-callers in 2021.
That doesn't mean the Titans don't have plenty to worry about on their own depth chart. Key cogs in the secondary – including Malcolm Butler, Adoree Jackson' and Kenny Vaccaro – departed in the offseason. Though the team managed to offset those losses by signing Janoris Jenkins and drafting Caleb Farley in the first round of the NFL Draft, the extensive turnover still could lead to a slow start for the defense. The addition of Bud Dupree also should bolster what was a horrible pass-rushing unit last season, but his ability to contribute immediately is in question after he ended his tenure in Pittsburgh with a torn ACL.
All told, the AFC South figures to be a two-team race, with the performance of the Colts' new QB Carson Wentz and the Titans' defensive pieces ability to form a cohesive unit, quickly shaping up as potentially deciding factors.
Barometer
⬆️ Rising: QB Ryan Tannehill
There's no denying that the Titans offense is paced by the ground game, but the addition of Julio Jones brightens the outlook of the team's passing attack and, in turn, Tannehill's fantasy prospects.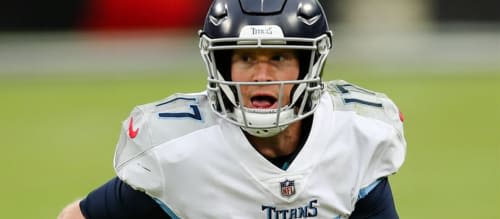 ⬇️ Falling: WR Josh Reynolds
After he joined the team in free agency, it looked like Reynolds was poised for a big role for the Titans alongside A.J. Brown. Alas, the presence of Jones figures to result in a lesser role for the ex-Ram.
😴 Sleeper: TE Anthony Firkser
Firkser has seen his target share increase in each of his three years with the Titans. He'll enter the season as the team's primary receiving tight end and could sneak into fantasy relevance at a shallow position.
🌟 Pivotal Player: Ryan Tannehill
Though Tannehill's efficiency regressed in his first full season as the Titans' starter, the veteran signal-caller managed a 33:7 TD:INT mark and chipped in seven rushing scores in 2020. The acquisition of marquee wideout Julio Jones figures to add more firepower and balance to the team's offense
Medical Tent
WR A.J. Brown
Brown played in 14 of the 16 Titans' regular-season games in 2020, but he underwent surgery on both of his knees once the team was eliminated from the playoffs. While that's plenty to overcome, the 24-year-old was cleared for action in advance of training camp and now will form a one-two WR punch with newcomer Julio Jones.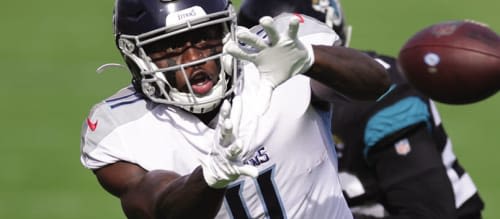 WR Julio Jones
Jones has dealt with frequent lower-body injuries throughout his career, but he typically was able to get through them. Last year was different, though, as he missed more than two games in a season (seven DNPs in all) for only the second time in 10 pro campaigns. In his first camp with the Titans, Jones has been a spectator more often than not with an undisclosed issue, but coach Mike Vrabel remains unconcerned about the wide receiver's health.
LB Bud Dupree
The Titans inked Dupree to a lucrative five-year, $82.5 million contract this offseason, even after he suffered a torn ACL in Week 12 of the 2020 campaign. Dupree has maintained that he will be ready for the opening of the regular season, but he began training camp on the team's preseason PUP list, so that outcome in not necessarily a lock.
Job Battle
Derrick Henry is the clear workhorse back in Tennessee, so the winner of the No. 2 RB battle is unlikely to carry significant value to begin the season. However, he's compiled a huge workload across the last two seasons, which could catch up to him at some point. Perhaps more likely is that the backup running back may be able to steal some third-down work away from Henry, who has commanded little volume in the passing game throughout his career.
The front runner for the role should be Darrynton Evans, whom the Titans selected with a third-round pick in the 2020 NFL Draft. His rookie season was largely washed out by injury, as he suffered from both hamstring and shoulder issues. But Evans earned strong reviews in spring practices and headed into training camp with a clean bill of health.
The offseason acquisition of Brian Hill adds fairly stringent competition for Evans. Hill earned a career-best 100 rushing attempts in 2020 as a member of the Falcons, and he also chipped in 25 receptions. That established ability to contribute as both a rusher and receiver could put him in the best position to be Henry's primary reserve.
Finally, Jeremy McNichols often served as Tennessee's change-of-pace back last year and totaled 47 carries and 12 catches in the process. However, with the addition of Hill and presumed health of Evans, McNichols could find himself on the outside looking on for a roster spot in the fall.