This article is part of our FanDuel Sportsbook series.
Week 2 was not great (Bob), with Washington reaching 21 with just over two minutes left to ruin the under 20.5, while Sony Michel scored in the first half to pay +165 but not in the second half at +190. That being said, those who were interested in the mentioned Michel first touchdown prop at +500 were rewarded. We had some injury luck go our way to help David Johnson stay under 54.5 rushing yards (he ended up on 14), as he left the Cardinals-Ravens game with a wrist injury before returning, but additional injury luck went against us, as Ben Roethlisberger's elbow injury crushed JuJu Smith-Schuster's quest to go over 14.5 fantasy points (he finished with 7.9, including a touchdown), while Drew Brees' thumb injury early in the Saints-Rams game killed the Saints' offense and the need for the Rams to keep up, with that one 27-9 final, which means both teams did not score at least 25 points.
We're back at it this week looking for more creative ways to place bets than simply targeting spreads and totals. If you're looking for that type of content, feel free to check out our Week 3 Beating the Book and Staff Picks columns, each of which handicap and pick every game of the week.
Panthers and Cardinals to both score 20 (+140)
The spread for the Panthers vs. Cardinals game understandably switched with the news that Carolina quarterback Cam Newton would not play because of a foot injury, moving the Panthers from -3.0 to +2.5, though the game total didn't drastically change, moving from as high as 46.5 to the current 44.5.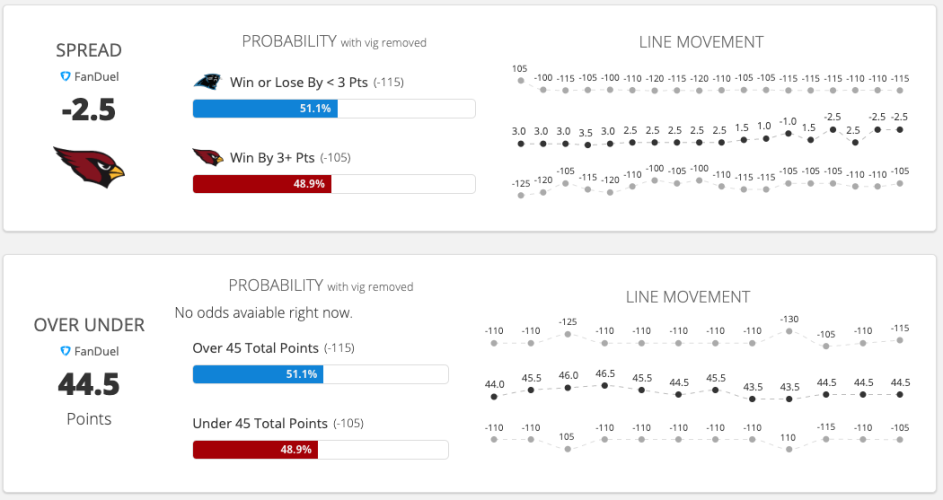 The team totals for both are close, with the Panthers at 22.5 (-112 under, -108 over) and Cardinals 23.0 (-106 under, -116 over), but given the high pace that both play, we should still see opportunities for points, even with Kyle Allen under center for the visitors.
The Ravens vs. Chiefs game has the highest total of the week at 52.0, which is actually down from 55.0, but it's still plenty high because it features two of the best offenses in the NFL this season.

Expecting points doesn't mean you need to take the over at +100 (under is -120), as we can find more creative ways to look for payoffs on points. Chiefs tight end Travis Kelce is -145 to score any time, the best mark in the game, but we've seen time and again that quarterback Patrick Mahomes is willing to throw to anyone, so let's try to take advantage of that with Robinson, who caught all six of his targets for 172 yards and two touchdowns last week against the Raiders. Sammy Watkins is only +115 to score and on the minds of plenty of people since he wasn't able to take advantage of last week's opportunity, while Mecole Hardman at +220 is also a viable look.
The Cowboys are favored by 22.5 over the Dolphins and Elliott's anytime touchdown odds are -280, some of the highest for the entire week in any game. There are obviously a plethora of ways to bet on the Cowboys, but none of them are overly exciting in terms of payouts. Elliott is also tied with Christian McCaffrey for the highest fantasy points total of 20.5, one that all but requires a touchdown to hit, and with the Cowboys so heavily favored and Elliott expected to be at or close to his full workload, an early touchdown seems entirely reasonable.
Cowboys and Patriots to win by 14+ parlay (-133)
The inspiration for this pick came from this Thursday tweet of someone looking for a "free $4,000" from the Patriots and Cowboys:
Now, you're unlikely to be able to get a bet down of that size, plus FanDuel has the Patriots at -3000 and the Cowboys -2400, with a moneyline parlay moving it to -1309, which means an $89,000 bet would win $6,798.61. Again, that size bet usually isn't accepted everywhere, and I'm not here to tell you to make that bet because what's the fun in it? Instead, why not take advantage of the fact they are both favored by more than 20 and get a parlay down to -133? Doing this, we're using our $89,000 to win $66,750. Of course we're not hitting that kind of level, but if you think the Cowboys and Patriots romp but don't want to rely simply on their respective spreads, here's an easier way to get action together that pays significantly better than the simple moneyline parlay.