This article is part of our Handicapping the NBA series.
We're still nearly three months away from opening night for the 2019-20 NBA season, but it's never too early to start looking ahead.
While this time of year is when most fantasy basketball players are gearing up for draft prep, it's also a great time to look to your preferred sportsbook for favorable odds on next season's outcomes.
As a way to break down some of our favorite bets, Alex Barutha and I each allotted ourselves $1,000 (fictional, unfortunately) dollars to blow on futures bets, including individual award-winners, team win total over/unders, and season-long outcomes like division, conference or NBA Title winners.
No strict money limits were imposed as far as how much could be spent per bet, but the dollar amounts are a good indication of either how strongly we believe in each outcome, or how appealing of a value it is at this point in the offseason.
All odds via the FanDuel Sportsbook.
Barutha: Hornets under 23.5 wins (-110) – $50
Since the lockout-shortened 2011-12 season, 20 teams have won fewer than 24 games. So how does this Hornets team look compared to some of the worst rosters in recent history? I will admit, the 2019-20 Hornets do look better on paper than the 10-win 76ers from 2015-16, who were led in total minutes by the Big 3 of Hollis Thompson, Jerami Grant and Isaiah Canaan.
Charlotte projects closer to the two 23-win teams on the list – the 2013-14 Magic led by Arron Afflalo, Victor Oladipo and Jameer Nelson, and the 2015-16 Suns led by P.J. Tucker, Devin Booker and Brandon Knight. But considering the rookie versions of Oladipo and Booker might be better than anyone the Hornets have on their current roster, I'm pretty confident in fewer than 24 wins.
Whalen: Knicks under 29.5 wins (-125) – $1,000
Alright, so the plan is to put my entire $1,000 budget on the Knicks' under, pocket the automatic $800, then use $1,000 of my own money to fill out the rest of my bets.
On a slightly more serious note, this is really the only over/under number that, at first glance, looks like a mistake. The Knicks are coming off of a 17-win season in which they traded their best player before drafting a ball-dominant, likely-inefficient rookie in RJ Barrett. I like Barrett and think he has long-term All-Star potential, but he doesn't fit the archetype of a player who helps you win NBA basketball games in Year 1 – especially when you pair him with Dennis Smith, Jr. and Kevin Knox.
New York did make a few splashes in free agency, but, fittingly, the Knicks' biggest additions – Julius Randle and Bobby Portis – are perennial Good Stats/Bad Team All-Stars, while veterans Taj Gibson and Marcus Morris could spend most of their time backing up inefficient, younger players. The Knicks probably won't sink to the depths of last season again, but it's tough to point to what, exactly, will equate to the 13 more wins needed to hit the over.
Barutha: Nuggets over 51.5 wins (-115) – $75 + win the NBA Title (+2300) – $75
You have to go back to 2014-15 to find the last time the Nuggets went under their expected win total. While that's not a great reason alone to bank on the 2019-20 over, it's important to note that the Nuggets have been consistently underrated as of late. Denver won 54 games last year despite Monte Morris ranking third in total minutes, and, to me, losing to Portland in the Western Conference Semifinals felt like a fluke.
Being in a competitive Northwest Division doesn't help Denver's chances, but the Nuggets have an MVP-caliber player in Nikola Jokic and actually got better by adding Jerami Grant. If Michael Porter Jr. can turn into a rotation piece and Denver stays relatively healthy as a unit, I think this group has a chance to crack 60 wins and claim the title.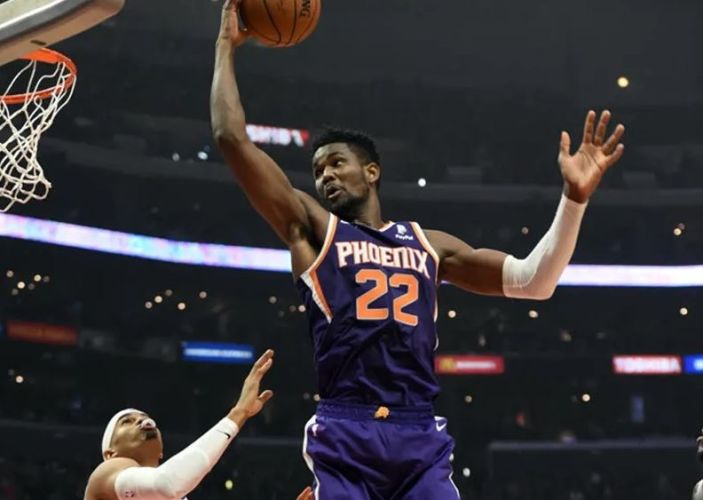 Whalen: Suns under 28.5 wins (+100) – $100
In the interest of full disclosure, I should note that I took the Suns' over last season. Can't really explain why I thought that was a good idea. I'm a big Elie Okobo guy – sue me.
Anyway, here we are yet again with the Suns looking like an improved, and dare I go as far as to say fun, team on paper. Devin Booker is one of the best pure scorers in the league. Deandre Ayton was better than I expected last season. They even have a real, live NBA point guard.
But if there's one thing the Suns don't get from me anymore, it's the benefit of the doubt. They'll be better than last year, but in a Western Conference with 13 playoff hopefuls, a double-digit jump in wins feels like too much to ask.
Barutha: Pacers under 47.5 wins (-110) – $50
The Pacers built up so many wins before Victor Oladipo went down that it's often forgotten how poorly they played down the stretch. At one point, the Pacers were 26-12 (a 56-win pace), but Indiana closed the season by going 8-15 over its final 23 games. Nate McMillan has proven to be a great coach, but vaulting this version of the Pacers to 48 wins will be challenging.
Much of the Pacers' potential relies on Oladipo returning in December and playing well – neither of which are guarantees. And while Malcolm Brogdon, Jeremy Lamb and T.J. Warren are nice adds, it's not a group that inspires massive confidence with Oladipo less than 100 percent. The losses of Bojan Bogdanovic and Thaddeus Young shouldn't be ignored, either, and it remains to be seen if a frontcourt of Domantas Sabonis and Myles Turner can lead to true success – the pairing was a modest +3.5 points per 100 possessions last season in just over five minutes per game.
Whalen: Nuggets over 51.5 wins (-115) – $150 + finish as the No. 1 seed in the West (+390) – $50
In the wake of the busiest free agency summer ever, Denver managed to bring virtually everyone back from a roster that jumped from 46 to 54 wins last season. Centered around a trio of players 24 and under, there's no reason the Nuggets shouldn't be able to at least sustain last season's pace.
With Paul Millsap back and Jerami Grant adding even more versatility up front – not to mention the expected debut of Michael Porter, Jr. – the Nuggets are the deepest team in the league, from top to bottom. If anything, their biggest issue is they might be too deep – to the point that good players like Monte Morris, Torrey Craig, Malik Beasley, and even Grant will have to battle for minutes.
Even if injuries hit again – Gary Harris and Will Barton missed a combined 84 games last season – Denver is in a position to weather the storm better than any other team in the West.
Barutha: Raptors under 46.5 wins (-120) – $50
The Raptors losing Kawhi Leonard and Danny Green means a loss of identity. At least one of Leonard or Green were in every Raptors five-man lineup that played at least 100 minutes together. And at least one of the two were in seven of Toronto's top-10 two-man combinations sorted by net points.
While Pascal Siakam should take a step forward, Kyle Lowry and Marc Gasol are on the wrong side of 30. Toronto is also very thin on the wing, where it'll presumably start Norman Powell and OG Anunoby. But above all else, I think there's a solid chance the Raptors will transition into a full rebuild, possibly trading Lowry, Gasol and Serge Ibaka. If that's the case, the under should be an easy hit.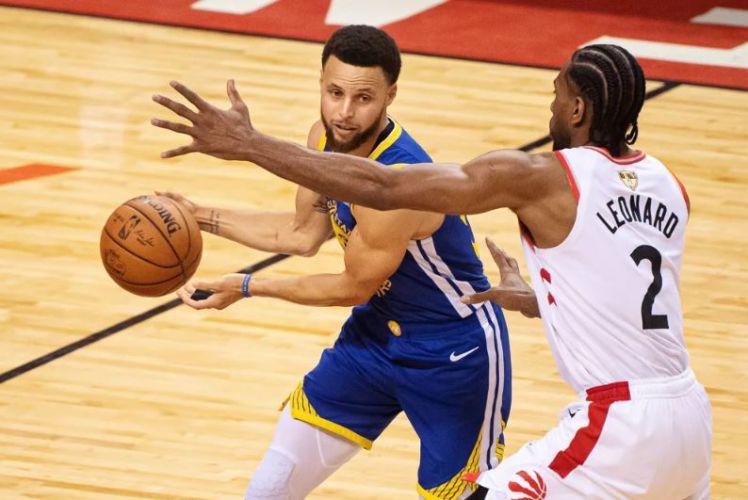 Whalen: Warriors to win the NBA title (+1500) – $50
I'm not expecting the Warriors to find a way back to the Finals, but from a betting perspective, there may be some value here. Obviously, Klay Thompson's recovery is the biggest variable at play, but if you believe he'll be back to 90 percent of his old self by April or May, it's not too difficult to start talking yourself into a suddenly healthy Warriors team blazing its way through the West as the most dangerous six seed in NBA history.
Replacing Kevin Durant with D'Angelo Russell is a significant downgrade, but Golden State could've done much worse than grabbing one of the best young assets in the league on a long-term deal. If it works out, Russell could help carry the franchise into Phase 3 of this current run. If not, it's no secret Russell could be trade bait, regardless of what the Warriors say publicly.
In the ideal scenario for this bet – and a doomsday scenario for the rest of the league – is it really that far-fetched to imagine Russell as the cornerstone of a trade that brings Bradley Beal to Golden State? The answer is probably yes, but for me, it's just believable enough to warrant a $50 investment.
Barutha: 76ers to win the NBA Title (+900) – $100
This is a straightforward bet to me. The Sixers are one of only two title contenders in the East – Milwaukee being the other. By acquiring Al Horford, Philly now has two strong frontcourt defensive options to try to slow down Giannis Antetokounmpo. If the 76ers can get past the Bucks en route to the Finals, they have enough talent to make a series against anyone from the West competitive.
Whalen: Hornets under 23.5 wins (-110) – $200
At a time when the overall talent level in the league is as high as it's been in decades, nearly every roster has a star or two – or at least a player with star potential. Even after losing LeBron for nothing, the Cavaliers, winners of 19 games last season, still have a marketable – and perhaps very trade-able – star in Kevin Love, as well as a pair of promising young guards in Darius Garland and Collin Sexton. The Knicks were even worse than the Cavs last season, and despite a flurry of questionable moves that dates back two decades, they'll plunge into the next decade with RJ Barrett and Mitchell Robinson leading the way.
Then there's Charlotte. While the Hornets haven't reached the singular depths of franchises like the Knicks or the Kings or even the 76ers – Charlotte has more wins than all three since the start of the decade – their sustained pursuit of mediocrity has finally come to roost. The one elite piece who kept the roof from caving in is gone, and in his wake lies the wreckage from eight years worth of bad draft picks (Michael Kidd-Gilchrist, Noah Vonleh, Frank Kaminsky, Malik Monk, trading Shai Gilgeous-Alexander) and even worse signings (Nicolas Batum, Bismack Biyombo, Kidd-Gilchrist, Zeller).
As of July 30, the Hornets have the ninth-highest payroll in the league for next season. Batum is making 26 million dollars, American. Biyombo – Bismack Biyombo – is making $17 million. Zeller, Kidd-Gilchrist and Marvin Williams are each making at least $13 million. Are any of those five even a top-100 guy in the league? Top 150?
Even Charlotte's top young players – Bridges and, I guess, Rozier – are not exactly blue-chippers. Is there anyone on this roster you could ever envision making an All-Star team even once?
It sounds bleak because it is bleak. But this may very well be the worst top-to-bottom NBA roster since the mid-decade 76ers, who, as you may recall, were openly assembling a losing product. Getting to 20 wins, let alone 24, with… Marvin Williams? as your best player would be a miraculous achievement.
If we agree this is, at the very least, the worst roster in the league for 2019-20, then consider that in each of the last 30 NBA seasons, at least one team has failed to reach 24 wins. I'm willing to bet, literally, that the Hornets are one of those teams next season.
Barutha: Ja Morant to win Rookie of the Year (+400) – $50
Zion Williamson is the obvious favorite (-150) and RJ Barrett has a legitimate shot too (+450), but Morant should have the highest usage of the trio. Both the Pelicans and Knicks have other high-usage players who will be handling the basketball, while the Grizzlies have very thin playmaking ability outside of Morant. While point guard has an extremely high learning curve in the NBA, winning Rookie of the Year can often be about putting up numbers, rather than doing it with top-tier efficiency or having a winning team.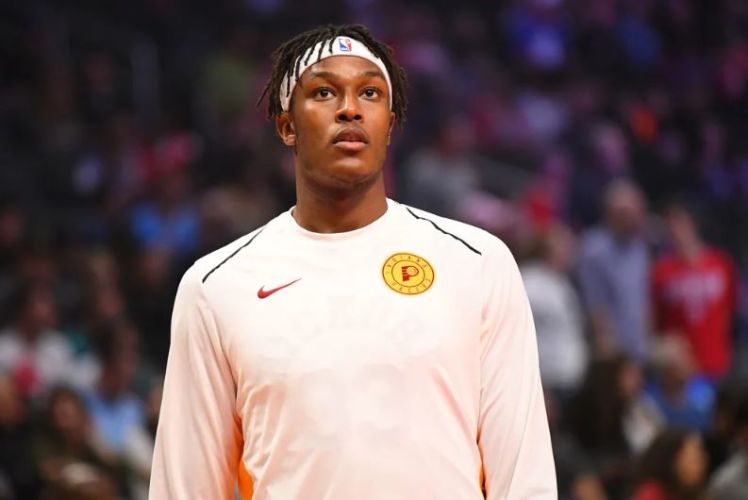 Whalen: Myles Turner to win Defensive Player of the Year (+2000) – $99
While Rudy Gobert is the favorite to three-peat, to me this award feels like it's Antetokounmpo's to lose. At +420, I like that bet, but I like the value of Turner even more at +2,000. He finished fifth in the voting a year ago after not appearing on a single ballot in 2017-18. Making that next leap into the truly elite tier of defenders is not an easy task, but Turner's numbers suggest he's on the cusp.
As a 22-year-old last season, he led the league in blocks and blocks per game, while ranking first among qualified players in block rate, third in defensive box plus-minus, and seventh in defensive win shares.
Barutha: Warriors to win the NBA Title (+1500) – $75
Klay Thompson's recovery from his ACL tear will be a huge factor, if not the main factor, in whether or not the Warriors can win the title. But assuming we get a healthy Thompson come playoff time and the usual contributions from Steph Curry and Draymond Green, not to mention the addition of D'Angelo Russell, a 15-to-1 chance to win the championship seems like good odds to me.
For reference as to what a 15-to-1 team looks like, last season's Rockets, Lakers and Raptors were between 19-to-1 and 10-to-1. But that was in a world where the Warriors were -168 favorites. The league has more parity now, and the Warriors still have elite talent at the top of their roster.
Whalen: 76ers to win the Eastern Conference (+220) – $100 + win the NBA Title (+900) – $50
Philly's lack of depth is concerning, but I like this version of the Sixers better than last year's edition, which came within a bounce of the Eastern Conference Finals. Even after losing Jimmy Butler, the Sixers have the best starting five in the league – and it's one that should mesh more easily and be even better on the defensive end. In prying Al Horford away from Boston, the Sixers simultaneously got the player who gives their own big man the most trouble, as well as the one with the best track record of slowing down the other biggest threat in the East.
Picking between that Bucks team and this Sixers team is a coin flip. I think the Bucks probably win more regular season games, but I like the Sixers in a seven-game series, which I expect we'll get in the Eastern Conference Finals. If the Sixers can get to the Finals, they have the high-end talent to feel confident about a matchup against whichever team emerges from the West.
Barutha: Bucks to win the Central Division (-550) – $275
Betting heavy favorites feels dirty for some reason, but this one is hard to resist. The Bucks are in a division with the Pacers (won't have Oladipo until December at the earliest), the Pistons (fringe playoff team), the Bulls (might surprise people this year but still have like a 40-win ceiling) and the Cavaliers (awful). Taking the Bucks -550 is basically a bet that Giannis Antetokounmpo plays at least 50 games.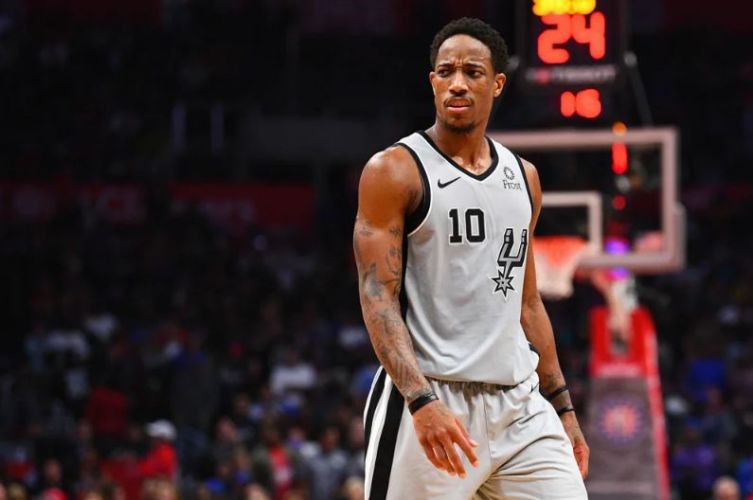 Whalen: Spurs to win the Southwest Division (+350) – $50
How about that Southwest Division, huh? After a quick search to find out which teams are in the Southwest Division, I've decided to allocate some of my funds toward the Spurs. At this point, they've been granted permanent benefit-of-the-doubt status. Basically the opposite of the Suns.
San Antonio hasn't dipped below 47 wins since the 1998-99 season. That's twenty (20) years ago. And that was a lockout year in which they won 74 percent of their games (a 61-win pace), won the division in the regular season, and went on to win the Finals. So, to summarize: the last time the Spurs failed to win 47 games, they won the title.
Even in what felt like a depressingly stagnant year following the Kawhi saga, San Antonio won 48 games in last season. That's only two fewer than the Jazz and three fewer than the Sixers. Granted, the Spurs did not add Mike Conley or Al Horford this summer, but they'll get Dejounte Murray back from injury while maintaining the trademark stability elsewhere on the roster. DeMar DeRozan and LaMarcus Aldridge might be the NBA equivalent of pairing a piece of unbuttered toast with a bowl of corn flakes, but the Spurs found a way to make it work last season, and I'll blindly trust them to do the same with a better supporting cast this time around.
To take the division, the Spurs probably just need to finish ahead of the Rockets. New Orleans and Dallas – both 33-win teams a year ago – will be improved, but Houston is by far the biggest threat. Bets aside, the Rockets would be my pick to finish with more wins, but a revitalized Spurs team leapfrogging Houston in the standings is worth some action at +350.
Barutha: Nikola Jokic to win MVP (+1,300) – $50
Jokic finished fourth last season in MVP voting as a 23-year-old, and now he's 13-to-1? Maybe there's a belief – I don't subscribe to it – that Jokic has already tapped out his potential after averaging 20.1 points, 10.8 rebounds, 7.3 assists and 1.4 steals. But those are MVP-caliber numbers as they stand, and if the Nuggets secure the No. 1 seed in the Western Conference, which I think is very possible, then Jokic has a strong chance at the award even if he doesn't put up bigger numbers.
Whalen: RJ Barrett to win Rookie of the Year (+450) – $50
This is clearly Zion Williamson's award to lose, but stranger things have happened. Keep in mind that the star he's replacing in New Orleans, one of the all-time locks in NBA draft history, didn't win Rookie of the Year. We're just a strained hamstring or a broken thumb – or an unexpected breakout season from another rookie – away from this race being wide open.
If it's not Williamson, Ja Morant would be the next logical choice, but I like Barrett at +450. He'll go through some wild swings, and his percentages likely won't be great, but Barrett is going to play a ton of minutes, take a ton of shots and rack up a ton of counting stats. Even if those rebounds and assists are ultimately meaningless, they traditionally go a long way in deciding this award.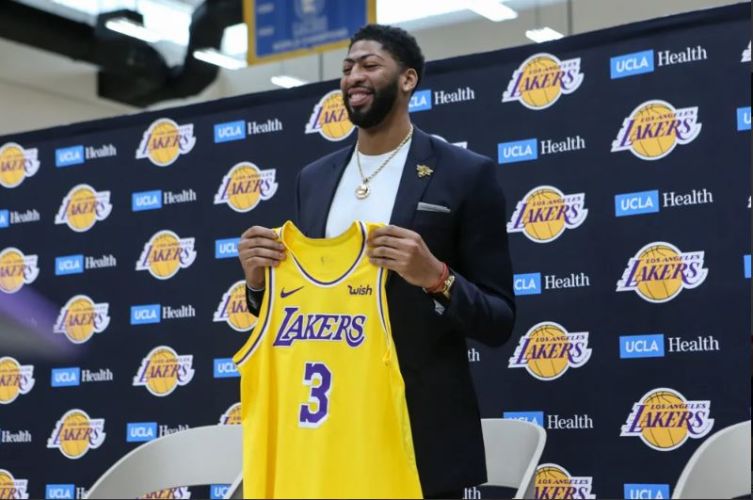 Barutha: Anthony Davis to win MVP (+950) – $50 + to win Defensive Player of the Year (+1,100) – $50
Through his first 41 appearances of the last season, Davis averaged 29.3 points, 13.3 rebounds, 4.4 assists and a combined 4.3 blocks/steals. Had he sustained those numbers across the entire year, Davis would have become just the second player in NBA history to average at least 29 points, 13 rebounds, 4 assists and 2 blocks – the other being Kareem Abdul-Jabbar.
Playing next to LeBron James, Davis probably won't see the usage necessary to do that again, but it's already clear that Davis is an MVP-caliber talent. And if the Lakers are at least a 50-win team next year, I expect Davis to get the credit over LeBron. On the defensive front, Davis is a three-time All-Defense selection, a three-time Block Champion and came in third in DPOY voting two years ago.
It makes sense that he hasn't been in the running more often considering the Pelicans only went to the playoffs twice when Davis was there. But now on a (presumably) winning team, Davis should have a legitimate candidacy.
Whalen: Nikola Jokic to win MVP (+1300) – $100
The best way to evaluate the MVP race is to play a little process of elimination: Of the eight players with the best odds, only Anthony Davis (+950), Kawhi Leonard (+950), Paul George (+1300) and Jokic (+1300) are yet to win an MVP. Of course, as both LeBron James (+750) and Steph Curry (+550) have demonstrated, winning an MVP doesn't disqualify you from winning another, but there does tend to be an inherent recency bias. In other words, if you've already won an MVP, especially recently, you're not only competing against the other elite players – you also have to surpass the already-lofty bar you've set for yourself.
Giannis Antetokounmpo (+270) and James Harden (+550) will look to accomplish that feat this season, but if there's any hint of voter fatigue, it'll help the cases of players like Jokic, George, Leonard and Davis.
Of that group, Leonard is likely to miss enough games that he may knock himself out of the race. George, who underwent surgery on both shoulders this summer, may be in the same boat. I do like Davis at +950, but he's far from an iron man in his own right, and he'll also battle the media repercussions of forcing his way to Los Angeles to join a four-time MVP.
I'm not making the case that Jokic is the best player of this group, but as an MVP bet he carries the fewest red flags of any candidate other than Antetokounmpo, whose biggest obstacle will be topping last season's production.
Denver is an incredibly deep team built to win a ton of regular season games, and Jokic has the benefit of being its only legitimate star. He's missed a total of 20 games in four NBA seasons, and he's coming off a year in which he barely topped 31 minutes per game – in other words, the 24-year-old has plenty of room to get even better. If the Nuggets win, say, 61 games and Jokic's numbers are 10 percent better, his MVP case will be as strong as anyone's.
Barutha: Draymond Green to win Defensive Player of the Year (+2,000) – $50
Green qualifies for the supermax if he wins Defensive Player of the Year, and he's definitely not worth the supermax, so he's going to be trying really hard to qualify for it and put pressure on the Warriors come next offseason. He won DPOY in 2016-17 when he was the Steal Champion, and he's made the All-Defensive Team five times. He's a little past his athletic prime, but Green remains the league's best all-around, multi-positional defender.
FanDuel lists 37 players as eligible bets for the MVP award. I'm putting $1 down here for the sole reason of trying to imagine the confluence of events that would lead to a 34-year-old LaMarcus Aldridge winning the MVP.
Seriously, take a moment to really think about what would have to happen. This is an actual thing you can bet actual money on. How many players would have to get hurt? Would the Spurs have to go 82-0? Would that even be enough? Would there have to be a leprosy breakout at the All-Star Game? Is there someone out there actually making this bet?