This article is part of our Collette Calls series.
I'll begin each of these Bold Prediction pieces with the same reminder as I cannot predict where people are jumping in and out of the series:
The premise for bold predictions remains the same: they need to be grounded in some form of reality. When I am looking at the numbers behind bold predictions, I am looking at something that is the 10 percent area of likely outcomes for that batter or pitcher. They've either had to do the performance before, or have the hidden metrics in their profile that point to something good or bad about to come. I'm not going out there predicting an MVP award for

Russell Martin

, but you're damn right I did a victory lap when

Christian Yelich

won the MVP last year because that was my prediction. In fact, I won a prediction contest against 120 other national baseball writers hosted by Mark Simon of ESPN on the strength of being the only person that had Yelich on his pre-season MVP ballot, and I picked him first. That choice pushed me over the top for the victory.
If you care to revisit my bold predictions for the AL East from 2018, you can read them here.

Baltimore Orioles (1 for 2 last year; correctly predicted Jonathan Schoop's demise but Mike Wright did not fully come to fruition).

Renato Nunez will hit 25 homers. Everyone else is all in on Cedric Mullins, so taking him here feels boring. Nunez has a few things going for him. Baltimore cannot send him to the minors without first exposing him to waivers, the Orioles are terrible and the club should give him a long chance to fail because he only turns 25 two weeks into the season. Ryan Mountcastle is the club's top position prospect, and likely replacement for Nunez, but he has never seen an at bat in Triple-A, and at age 22, no need to immediately rush him to the big leagues. Watch this home run from early last season before you pass on Nunez:
Nunez is a pull-heavy flyball hitter, and is in arguably the best place possible for right-handed power hitters with that profile. Camden has helped many similar hitters put up big numbers, and Nunez can do the same as long as he can stay in the lineup. Last season, he hit .275/.336/.445 with Balitmore in 220 plate appearances, and he hit 32 homers in the Pacific Coast League in 2017. Last season, he had 13 homers in less than 500 plate appearances between Triple-A and the majors. The one thing he has not had in his major league career is a consistent chance at playing time. Baltimore has zero to lose by giving him a long leash and allowing Mountcastle to fully bake in the minor leagues.

Hunter Harvey leads the Orioles in saves: Mychal Givens is one foot out the door in Baltimore as the Orioles should absolutely be looking to deal him during the season to a team looking for help. Baltimore will be terrible for the foreseeable future, so holding onto Givens makes zero sense, especially as we watch his strikeout rate decline four consecutive seasons. The Orioles run the risk of waiting too long to trade him, as they did with Britton, and receiving diminishing return on the trade market.
Harvey is a 2013 first-round draft pick who has yet to throw a pitch in the major leagues. His career has been riddled with injuries, having dealt with a fractured leg, sports hernia surgery, Tommy John surgery and, most recently, a banged up shoulder from dodging a foul ball in the dugout and elbow discomfort while coming back from that issue. Scouts grade Harvey's fastball and curveball as a 60 on the 60/80 scale, so he has the two above-average pitches necessary to flourish as a reliever. He throws mid to upper 90s, but the command is average. Again, Baltimore is out of contention from day one, and the sooner it can move Givens, the better. It should be an open audition behind him, but Harvey's mangled arm still has the most upside of the bunch.

Boston Red Sox
Jackie Bradley Jr. is a top-40 fantasy outfielder in 2019. We have him as the 55th best outfielder in our rankings while the NFBC board has him at 62. Bradley is an elite defender, and it is that defense that kept him in the major leagues all season in 2018. His triple-slash line on Father's Day sat at .184/.280/.301, which is the type of line that gets 99.9 percent of hitters demoted to Triple-A to work on things. Boston valued his glove enough to leave him up and let him fight through things and was rewarded by Bradley hitting .272/.341/.481 the rest of the season with nine home runs and 10 steals. The overall numbers are still a step back from the expectations his 2016 season set, but StatCast shows he left a lot of production on the table as his expected weighted on base average trailed his actual by 30 points. The indicators show recent increased in exit velocity and getting more loft to the baseball making a 20/20 season with plenty of runs possible in 2019. If he can pick up where he left off in 2018 with his hard contact, he could have a special season: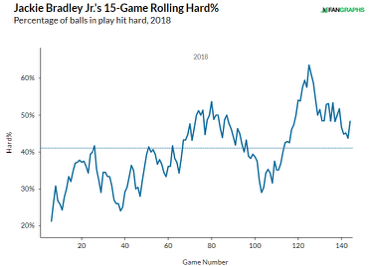 Nate Eovaldi doesn't pitch 120 innings in 2019. Many like Eovaldi in 2019, nearly as much as I did coming into 2018, albeit I thought his path forward was in the bullpen. He added a cutter, increased velocity, and had a very successful year. This article from Alex Speier discusses how Eovaldi's twice-rebuilt elbow is in great shape and Boston should not be worried about his future. This article mentions grimmer numbers for pitchers who have undergone multiple Tommy John surgeries. According to Joe Roegele's online database, the following pitchers have had at least two TJ surgeries in their careers: Al Reyes, Blake Wood, Brandon Beachy, Brian Anderson, Brian Wilson, Chad Fox, Chris Capuano, Cory Luebke, Daniel Hudson, Darren Dreifort, Doug Brocail, Edinson Volquez, Hung-Chih Kuo, Jason Isringhausen, Joakim Soria, Joe Nathan, Joel Hanrahan, Joey Devine, John Lamb, Jonny Venters, Josh Johnson, Kyle Drabek, Lance Carter, Matt Riley, Peter Moylan, Randy Wolf, Rubby De La Rosa, Scott Williamson, Shawn Kelley, Tim Collins, Todd Coffey, Tyler Chatwood, Tyler Yates, Victor Zambrano.
There is not one guy to hang your hat on in that list, and the closest comp on the list would be Chatwood. He had his second TJ surgery in 2014, and came back in 2016 going 12-9 with a 3.87 ERA over 158 innings for the Rockies in 2016. He has worked fewer innings in each season since, while his command has become atrocious. I am not speculating that Eovaldi will suddenly lose his control as Chatwood did last year, but there is simply no track record of someone with a twice-reconstructed elbow holding up as a starting pitcher of the course of a second full season upon their return. He has an ADP of 167 and is our 77th SP ranked on the board. Give me Jon Gray or Kevin Gausman, who are going 30 to 35 picks after Eovaldi, and I will let someone else take the chance his arm can hold up to the rigors of a full season pitching for the defending champion.

New York Yankees
Luke Voit does not hit 20 homers. This is bold because (min. 100 batted ball events) Voit had the highest Barrels/PA% in the league at 12.4 percent. Joey Gallo was next at 11.4, followed by Khris Davis at 10.7, and J.D. Martinez at 10.6 Simply put, Voit hit the snot out of the baseball last year for the Yankees while hitting 15 home runs in 161 plate appearances. It is also worth pointing out that Voit just once eclipsed 20 homers in a single season and that came last year with nine homers in Triple-A over 271 plate appearances in Memphis before hitting 15 in 161 plate appearances with the Yankees.
Yes, he has power to all fields and it takes just a mere pop-up the other way to hit a home run at home, but Voit had a 41 percent home run to flyball ratio in 2018. You cannot overlook that he did obliterate baseballs late in the 2018 season, but you also cannot overlook that he has never hit baseballs like that over the long haul throughout his career. It feels like we were just here with Greg Bird within the last two seasons, but if Bird could not sustain his 20 percent HR/FB ratio as a pull-heavy left-handed hitter in Yankee Stadium, how are we supposed to believe the right-handed Voit can sustain what he did in 2018 at even 80 percent for 2019? Voit is 1B19 on NFBC boards with an ADP of 192. Players after him include Carlos Santana at 211, Marwin Gonzalez at 226, C.J. Cron at 266 and Jay Bruce at 283. Give me Bruce, six rounds later in a 15-team league, over the price Voit is currently going for with much less of a track record.

Jonathan Loaisiga earns $8 in AL-Only leagues. Loaisiga worked at three levels for the Yankees in 2018, going 6-1 with a 2.89 ERA, 1.16 WHIP and 67 strikeouts in 56 innings. Loaisiga has never been able to string together a full season, but has the opportunity to step in and make an impact in a rotation that has some guys with some checkered health histories of their own. He throws mid-90s and touches 98 with a solid curveball and good changeup, giving him the type of repertoire needed to work in the front half of a rotation. The health has been the missing part of the equation for him, but the stuff is not in question. As a rookie, he had a 13 percent swinging strike rate and a 19 percent K-BB%, both very strong numbers for rookies. The .383 BABIP and .271 opponents' average shows he still has some work to do with pitch command and overall sequencing, but the pieces are there for him to take a big step forward once it all clicks. The injuries have certainly cut into his development time, but get in early while the getting is good because he will not be cheap on the FAAB market in 2019.

Tampa Bay Rays
Tommy Pham is a top-5 MVP candidate. Pham's overall numbers in 2018 do not represent his true talent level. Pham began the 2018 season where the 2017 season left off, hitting .358 in April. He proceeded to hit .197 the next two months while playing through a troublesome groin strain that was not serious enough to put him on the disabled list. The struggles led to frustrations on his part and he got into terrible habits at the plate, which led to expanding his strike zone to chase pitches he could not do much with. Pham was still stinging balls in the zone, and Tampa Bay noticed that and made the surprising acquisition of Pham at the trade deadline. Pham had the fifth-highest wOBA in baseball over the final two months of the season, trailing only Christian Yelich, Mike Trout, Mookie Betts and Justin Turner. The talent is there for Pham to be a top-50 player, but the lack of a health track record should prevent you from overreaching for what was a phenomenal final two months of hitting after the trade.
He made some adjustments once he came to Tampa Bay with hitting coach Chad Mottolla (UCF grad) to get more loft in his swing to take advantage of his hard contact:
| | | | |
| --- | --- | --- | --- |
| TEAM | AVG LAUNCH ANGLE | AVG EXIT VELO | AVG DISTANCE (ft) |
| Cardinals | 5.4 | 92.7 | 159 |
| Rays | 10.0 | 93.1 | 201 |
My friend Jason Hanselman graphed out Pham's launch angle and exit velocity trends with Tampa Bay last year and you can see how he continued to hit the ball very hard and the launch angle continued to climb throughout the end of the season.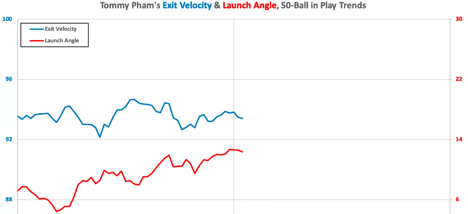 Pham is the 14th outfielder on our projections, the 40th best hitter and has an ADP of 63. If he stays healthy and stops complaining about the fans not showing up to games, he has the potential to be a top-25 player.

Jose Alvarado is a top five closer by R$. Closers need a couple things: two quality pitches (or one amazing one) and command. Alvarado has two excellent pitches in a fastball that tickles triple digits and a hard, 11-5 breaking ball that batters have a tough time picking up out of his hand.
Early in 2018, he lacked the command portion of that equation and had a 14 percent K-BB rate despite his stuff because he could not hit his spots consistently. That changed midseason and Alvarado had a 28 K-BB% in the second half while holding hitters to a .154 batting average and a .244 slugging percentage. You can see that in-season growth in the image below where things clicked and he went from meddling hard-thrower to dominating hard thrower: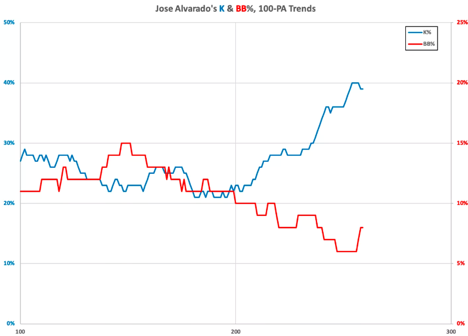 He allowed one home run on the season to the 263 batters he faced, which while fortunate, also speaks to how tough he is for batters to pick up. You must read this excellent piece by Jeff Sullivan, which does a wonderful job of breaking down how Alvarez made adjustments to become the next dominant reliever.
A few year ago, the club had Felipe Vazquez on the roster and traded him to get Jose Lobaton. They have Vazquez 2.0 here and will not repeat that mistake. As long as the Rays do not try to game the arbitration system, this is their new closer. He is our 44th best reliever on the board and has a 176 ADP because he is not officially anointed the closer, and there are some rumblings about Sergio Romo returning to the team. Still, you should be very aggressive with Alvarado this year because he is easily the best arm in the pen on the club, if not one of the best in baseball.

Toronto Blue Jays
Danny Jansen out-earns Buster Posey. Whatever adjectives you have read this offseason that describes the awfulness of the catching position in 2019 have not been strong enough. The position is in terrible shape with large gaps between the tiers on paper. Posey has always been one of those safe names that people go get because he gets some time at first base and hits for a great average. The trouble with Posey is the Giants roster around him is mostly terrible, so his run production will suffer because of it. Besides, let's compare our projections for Posey and Jansen as well as their current ADPs:
| | | | | | | |
| --- | --- | --- | --- | --- | --- | --- |
| PLAYER | AVG | HR | RBI | SB | R | ADP |
| Posey | .299 | 10 | 58 | 2 | 63 | 142 |
| Jansen | .274 | 11 | 48 | 1 | 46 | 238 |
Jansen is never going to make up that gap in average as Posey is too accomplished of a hitter while Jansen is inexperienced at the major league level. That said, Jansen hit .285/.396/.488 the last two seasons in Triple-A with 15 homers, 68 RBIs and 53 runs scored in 438 plate appearances. The difference in batting average may be lower than what is projected, and the run differential could be less as well. We're then left with two guys with nearly identical homer and RBI production, and is that worth a 100 spot difference in ADP? When in doubt, take the player in the better run environment, and that is Jansen playing in a friendly home park and a division loaded with friendly hitting parks.

Ryan Borucki is a top-60 starting pitcher. Borucki wears 56 in honor of his idol growing up, Mark Buehrle. Like the former White Sox great, Borucki is a lefty with good command who works quickly and features a changeup. His change had a top-25 swinging-strike rate last season and generated a higher percentage of whiffs than the same pitch from Zack Greinke, Dallas Keuchel, Jeremy Hellickson or Luke Weaver, to name a few specialists. What has been intriguing about this kid is how he has skyrocketed through the system, going from High-A to the majors in under two seasons, and he's done it without skipping much of a beat. His 2018 MLB strikeout rate was below average for a starting pitcher, but he had higher rates throughout the minor leagues. Sure, Marcus Stroman and Aaron Sanchez have better arms, but they're heading down the Chris Archer path of expected results that has yet to find a final destination. Scouts grade all three of Borucki's offerings at 50 or better on a 20/80 scale and give him a 60 command. We have him at SP88 and his overall ADP of 571 means he is free for the taking late in drafts.