This article is part of our Collette Calls series.
Last week,
I showed how
manager Mike Matheny's pattern of leaving
Luke Weaver
into games too long is a big reason why the young pitcher has been such a fantasy disappointment this season. I fully recognize that National League rules do not make it as easy for him to pull a pitcher as it does for the superior circuit that does not have to worry about the silliness known as pitchers hitting. By the way, the collective batting numbers for pitchers in 2018 is .107/.139/.137, which works out to a .126 wOBA, and their -28 wRC+ is
the lowest since the league expanded
to 30 teams. The last seven seasons have been the seven worst by weighted on base average for this novelty act: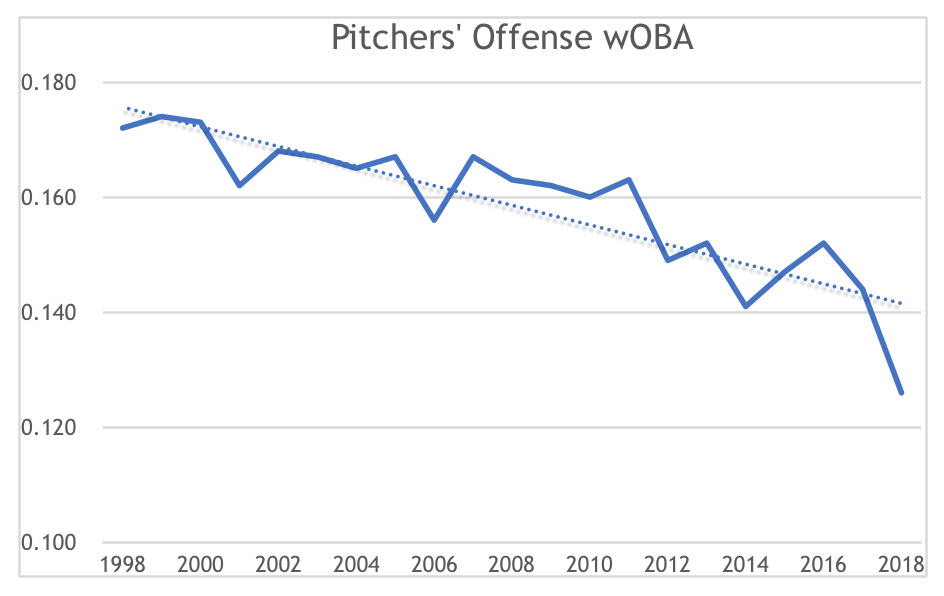 Simply put, it's a matter of when, not if, for the DH to be a universal rule. I would be surprised if it did not happen in the next labor negotiation with a tradeoff of going to 26-man rosters given how teams are using pitching these days. Then again, they may implement a rule where it is 26, but teams have to carry 13 hitters and 13 pitchers.
Back on topic; the "Times Through the Order Penalty" is a real thing. As a whole, a pitcher does worse each progressive time through a batting order.
TIME
THRU
ORDER
TBF
ERA
AVG
OBP
SLG
wOBA
1st
56616
3.67
.236
.313
.392
.306
2nd
22656
4.20
.246
.316
.412
.316
3rd
13323
5.48
.263
.333
.456
.338
4th