This article is part of our Collette Calls series.
Much was made of Marcell Ozuna being traded this offseason as the Marlins drained the Everglades of any talent that cost them money. FanGraphs penned an article stating, "The Cardinals trade for the new best position player." He had an ADP of 47 this past draft season and was taken as high as 12th in an NFBC draft that clearly took place in St. Louis.
Ozuna is batting .258/.293/.348 with three homers, 20 runs driven in and 12 runs scored. That production has him tied with Buster Posey on our earned values board, but you have to do much scrolling to get down to his location on that board. Ozuna shows up 50th once you filter down to just outfielders. Simply put, he has been a bust to this point of the season.
William Shakespeare said, "What's past is prologue." I want to take a look at how the rest of Ozuna's sonnet can play out this year. For Ozuna owners, it has been the spring of their discontent, but can it be made a glorious summer by the sun of St. Louis? Any good play needs scenes set for it, so this article will have quite a bit of tables and imagery to set the scene for where we are with Ozuna and what may, or may not, be coming.
Captain Obvious checks in to tell us that 2017 was a career season for Ozuna. After three seasons of displaying potential and power, it all came together for him in 2017 as he set career highs across the board and deformed many baseballs across the country. Once one look at those two bodies of work against one another, one can truly appreciate what Ozuna did in 2017:

2017 was Ozuna's fourth full season in the major leagues. We often see players take that big step forward in that third or fourth season, which typically happens for most of the talented players at ages 26 or 27. This is why the pseudo-science age 27 theory persists; it is nothing about age as much as it is experience in the league. In Ozuna's case, he got started younger than most major leaguers, so that big breakout came at age 26. I'm guessing the person that took him 12th overall may have been clinging to that age 27 theory and hoping there was another step up coming for Ozuna in 2018. The smart play would have been to factor in some level of regression given that two-thirds of Ozuna's career showed a player that was slightly above average offensively while one-third of the numbers showed a superstar.
It is against that lens that we now include what he is doing in 2018 to see whether there are some obvious reasons for his struggles:

Ozuna is striking out at a higher rate than he ever has, this despite the fact he is still in the National League and is not learning a new league of pitchers. He is also walking less than his career rate, but once he puts bat on ball, he is certainly not unlucky. His BABIP is nearly a perfect average between the first two groups, and his 2018 batting average is right in line with his first three years of work. I don't think anyone saw Ozuna as a .300 hitter year in and year out, but a 51 point drop in batting average was also not on many radars. The surface stats do not show us why things are this south for him, so let's dig a bit deeper.
When I see someone suffering in the average department, my favorite thing to look into is their plate discipline. Frankly, there is not much that really stands out in Ozuna's numbers that can lead us to conclude this is where his problems lie.

He is chasing a few more pitches out of the zone, and coming up empty a bit more, but his 2018 numbers are otherwise in line with some of his previous numbers. In fact, he has been as aggressive a swinger as he was last season, and when pitches are in the zone, he is doing as well in 2018 as he did in 2017. Again, there is not too much here to be concerned about as nothing is completely out of whack with previous efforts.
The next step is to look into how the league is pitching to him. Word spreads quickly around the league when something is or is not working against a batter. If scouts notice a player is struggling with pitch recognition, pitch location, or a slow bat, the advance reports are written, and pitchers change their approach with the hitter.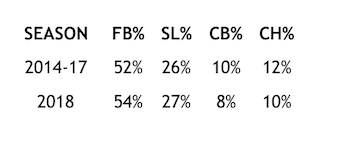 There has been a slight shift to throwing Ozuna harder stuff this year. In breaking down the pitch data from 2014-2017 for four and two-seam fastballs as well as sliders, some interesting data appears for Ozuna. He was an overachiever on the hard stuff in past years, and is now underachieving this season by expected offensive outcomes. He is hitting the fastballs and sliders for average, but not for the same power as he did over previous seasons:

A look at his average batted ball distance shows for fastballs and sliders from 2014 to 2017 was 175 feet. That rate has dropped to 166 feet this season. The animation below shows his launch angle for those pitches and we can see why Ozuna's slugging numbers have dropped to this point:
That is a noticeable change in launch angle that does not show up in his average launch angle. The overall report shows an average launch angle of 11 percent for 2014-2017 as well as this season, but the animation shows that those two figures are not created equally.
When everything has gone well, Ozuna has been able to launch balls a long way. The animation below shows Ozuna hitting his two longest home runs of the past two seasons. On the surface, they look very similar, but there are some subtle differences. See if you notice them before I introduce the stills:
He sets up with an open stance and has the same timing mechanism in the lower half with the toe tap as he closes his lower half while the pitch approaches. Honestly, he looks like the same guy over the past two seasons for his swing. The only thing I can pick up when slowing that animation down using
GifScrubber in Chrome
is that Ozuna appears to be lunging at the ball in 2018 whereas he appears more upright in 2017 when hammering two pitches in a similar location.
That 2018 home run video came on April 3rd, and he had a solo shot on April 12th, but it was not until last night that he hit another home run, which came off a 2-0 84-mph cutter that never cut. In between that second and third home run of the season, Ozuna has produced a .225/.276/.263 slash line with three extra base hits, all doubles.
A power hitter that struggles to hit for power typically points to injury. It is at this point that we remember Ozuna has been dealing with a right shoulder issue for most of 2018:
Marcell Ozuna has been receiving treatment on his shoulder, and he said it's much improved from the start of spring training. Not quite full-strength, but "much better, all good, getting there." Tommy Pham says if Ozuna's "arm is healthy I don't do that." #stlcards#MLB

— Derrick Goold (@dgoold)

March 31, 2018
The shoulder trouble has been noticeable in the field as his throws lack zip, and any shoulder trouble for a hitter will show up in a drop in power numbers. See
Matt Carpenter
,
Josh Donaldson
, and a host of other players that have recently dealt with shoulder troubles and have suffered at the plate. The bad news about shoulder troubles is that they typically only go away with rest and rehab, or eventually surgery. Playing through shoulder troubles is possible, but it saps the power of the hitter. The league knows Ozuna is struggling to hit with power and they are challenging him with fastballs and sliders because of it. Over the past month, He has seen 78 percent fastballs or sliders as the league feels better about challenging him with hard stuff than it does speeding up his bat with changeups and curveballs.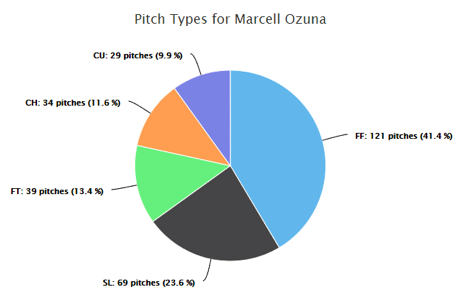 Ozuna has a .267 wOBA during this run with an xwOBA of .331, so he should be doing better than he is. That .331 xwOBA puts him in the same ballpark as hitters such as Daniel Descalso, Russell Martin, Jason Kipnis, Howie Kendrick, and Matt Chapman over the past month. In fact, Chapman's actual wOBA over the past month is five points lower than Ozuna's, so if you are betting on a Chapman rebound, then you could feel the same way about an Ozuna rebound. I am still very leery about the shoulder trouble because he has been dealing with it all spring, and he still has not shown the ability to handle the hard stuff the league is feeding him on a consistent basis.
I was offered a $30 Ozuna in my home NL Keeper league and offered Chris Taylor and Tommy Murphy for Ozuna and a $13 Yasmani Grandal. That was countered with Ozuna, Raisel Iglesias, and Tommy La Stella for Brad Hand, Chris Taylor, and Austin Riley. Had I been higher in the standings, and Ozuna's shoulder was healthy, I may have considered it in spite of my man crush on Riley. However, Ozuna is not giving me much confidence that these shoulder struggles will go away and he could end up this season with a significant drop from his 2017 home run total.