This article is part of our Collette Calls series.
It only took three months, but my draft season is finally completed. My final league, an 11-team AL-Only auction, drafted on April 14 due to student holidays and someone being on their honeymoon the previous weekend. I do not mind drafting late because it helps you avoid paying big dollars for players who get hurt early, which currently plagues my AL Tout Wars team. What I do not care for is losing the advantage of doing the offseason homework and identifying potential breakout candidates only to watch them roar out of the gate and see their draft-day value skyrocket.
I have already complained about writing in short sample-size season in April and how few stats are worth writing about this time of the season. Early velocity readings, either via a pitcher's arm or a hitter's bat, are useful but you have to expand the sample size to get better readings on batters. What I would prefer to do this week is play another round of Who Am I?
The format of this game is simple: I present some facts about an anonymous player and let you make your guesses about who the player is before clicking on the Who Am I link to see who the player is. Let's see how you do (All data is as of the start of play April 16).

Player 1

The first thing you should notice is this player's 50 batted ball rolling average for his exit velocity: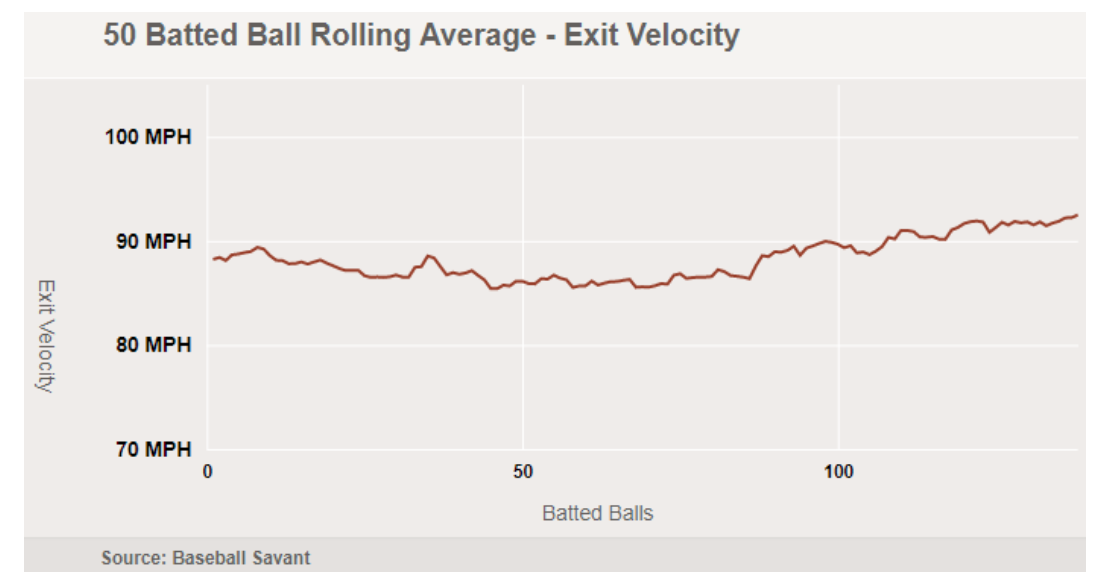 Notice the upward trend on that